...musings on memes and a very drunk queer boy...
I suspect i may have been one of the people not expected to complete the quizzage. If I wasn't, then Muah! Defiance. If i was, then yay!. A Distraction.
Ground Rules: The first player of this "game" starts with the topic "5 Guilty Pleasures" and people who get tagged need to write an LJ entry about their 5 Guilty Pleasures as well as state this rule. In the end, you need to choose the next 5 people to be tagged and list their names.
1) writing in this when there are so many more important things i must do...(but i don't feel guilty)
2)vegan cookies....many vegan cookies
3) sitting on my roof, smoking dope and looking at the stars.
4) dancing in the rain barefoot
5) pain (in all its forms)...but i don't feel guilty about that either. I fail at this meme.
And, while I'm here...
1. what is your middle name?
...i'm afraid that's confidential information, as it's been used against me in the past*shifty eyes*
2. what size is your bed?
small..for I am a very large person..
3. what are you listening to right now?
nothing, but I hear a song from RENT in my head...
..take me for what I am, who I was meant to be..
5. what was the last thing you ate?
...fries. I feel so unhealthy right now.
6. Last person you hugged?
Arun?
7. how is the weather right now?
..too much like spring..
8. who was the last person you talked to on the phone?
..my dad..
10. do u have a G/F B/F?
..no...and would it really have been that much effort to add in the y and o?
11. do you want children?
no thanks, I'm good...
12. do you drink?
yes please.
13. ever get so drunk you don't remember the entire night?
a few times...that i know of.
14. hair color?
i think it's a brownish color right now...until tomorrow, i hope.
15. eye color?
blue
17. favorite holiday?
school holiday..
18. favorite season?
winter
19. ever cried for no reason?
that's quite a random one for this line of questioning, not to mention awfully personal. "How's the weather?....are you feeling really shitty about yourself?"...what the fuck?
20. last movie you watched?
slc punk
21. how many mirrors are in your room?
1
22. whats your favorite song?
I don't have a favourite, but i like judith by apc and i'm a fake by the used a lot.
23. have u ever stole from a store?
really! it's only two extra letters!.....no, but i used to steal from kid's houses when i was a kid.
24. do you enjoy the sensational taste of starbucks?
no, not particularly.
25. does the word "horcrux" mean anything to you?
Harry Potter?
26. do you have any friends of the gay preference?
wow. You've master the use of the "you"*thumbs up*. I think a more appropriate question here would be do i have any friends of the straight preference....and i will have to think about the answer to that.
27. do you think jesus is great?
Jesus is my homeboy.
28. is cheese like the best food ever, or what?
By adding in the "or what" you seem to imply that I must agree with you on that. No, cheese is not "like the best food ever". It is "like made from the pain and suffering of a living thing". Isn't that "like so not cool"?
29. what books are you reading?
many books, but i should be reading Pride and Prejudice for a class.
30. piercings?
oh, yes please!.....ears, cartialage, nipples, lip, daith, tongue, both sides of my nose.
31. favorite movie?
garden state, slc punk, trainspotting, donnie darko, the nightmare before christmas,
32. favorite college football team?
ew.
33. what were you doing before filling this out?
eating?
34. any pets?
calvin and betsy.
35. dogs or cats?
i have cats, but i like both.
37. have you ever been caught doing something you weren't supposed to do?
yesss*shifty eyes*
38. have you ever loved someone?
yes.
39. who would you like to see right now?
adam.
40. are you friends wit any of your exs?
"friends" is a such a strong word.
41. have you ever fired a gun?
yes.
42. do you like to travel by plane?
I like to go to places, which must be done sometimes by plane.
43. right or left-handed?
I wish i was left-handed...so by process of elimination, i am ______.
44. if you could be with someone right now who would it be?
um, i believe we already went through this.
45. how many pillows do you sleep with?
2.
46. are you missing someone?
yes.
47. Do you have a tattoo?
yes.
48. do you still watch cartoons on Saturday morning?
I sleep on saturday morning.
49. are you hiding something from someone?
I am hiding many things from many people.
50. most annoying thing about you?
i probably don't notice the most annoying thing. Anyone feel free to inform me.
And, now...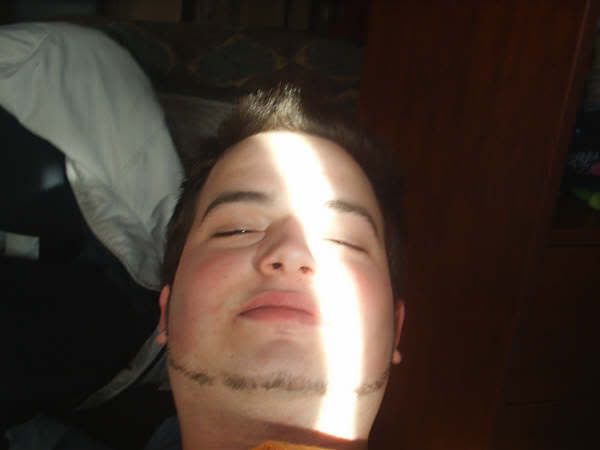 ahahahahahahah, Adam. You were sooo drunk. I love it.
Current Mood:
indescribable